Who we are
Wild Goat Events is a boutique Event Design Studio tucked into the wilds of Byron Bay, bringing luxurious events to Byron's laid-back shores. We have a passion for creating unique, intimate and highly tailored experiences all over Byron Bay's beautiful beaches and surrounds. Our trademark luxe style and love for spoiling others, has led us to specialise in one-of-a-kind romantic proposals, intimate elopements and luxurious pop up picnics to help you celebrate the little and BIG moments in life.
Wild Goat Events is passionate about the space we work in, at Byron Bay's most coveted natural locations. We're also passionate about the ethos this town embraces, so we work to protect the natural world around us. Our events are sustainable and reflect the unique allure of this beautiful area, in the heart of the pristine Arakwal National Park.
Our namesake – The Wild Goat
For years, Cape Byron played host to a herd of wild goats, who were spotted on the headland after being introduced by a lightkeeper back in the early 1900s. Their constant presence was loved by the Byron locals, who took it somewhat personally when the goats were removed from the Cape's fragile cliff face, but one legend, the elusive Wategoat, remained. Some say she's still wandering the cliffs, hidden out of view; others say she's moved on to greener pastures. Wherever she may be – and whether she'll emerge on a breezy summer's day – she remains an icon, cherished by those who remember the herd mingling along the grassy knolls. The Cape Byron wild goat is our namesake for being everything a good event should be… Wild, free, and a bit feisty.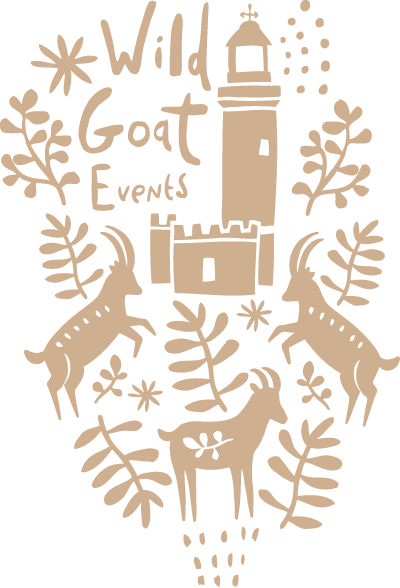 Love Notes
From Clients
"Wild Goat Events did an absolutely amazing job organising, setting up, communicating and everything else to make the entire event so special. They were so accommodating to my needs. Everything went flawlessly and looked absolutely amazing. I honestly couldn't have asked for anything more. Very happy and would highly recommend to anyone – Stress free experience, looked beautiful and partner was over the moon when she saw everything."
"Hannah was a tremendous help both in planning and execution of my proposal. She was extremely accommodating to all of my requests as well as providing a number of great suggestions. The florals and grazing tray she arranged were amazing! She was the big reason I was able to pull off a magical moment for my partner and I in a short period of time. I also highly recommend her photographer Lara."
"I can honestly say from the moment I first spoke with Hannah about a sunrise proposal I was treated so well. Hannah's communication, information, planning and organisation was incredibly valuable. The team at Wild Goat Events were able to remove most of the stress from my shoulders, allowing me to relax and enjoy the moments before the proposal. I'm telling you right now, this is such a worthwhile experience! Thanks so much Wild Goat Events!"
"The team at Wild Goat Events created the perfect proposal for my fiancée and I. Even though I didn't give them a lot of notice, they were understanding, compassionate and eager to help bring my ideas and desires to life. The location, the picnic, the photographer – I could never have organised these things on my own and Wild Goat Events made the process easy and enjoyable. My fiancée and I were blown away by the effort that was put into making this day special for us. We will cherish it forever. Thank you Wild Goat Events!"
"The team at Wild Goat Events are true professionals and relentless in their pursuit of the perfect proposal! They were excellent with their communication and worked tirelessly to make sure everything ran smoothly for our sunrise, beach proposal. They even scoped out the sunrise weather conditions throughout the week to pick the perfect day. And Byron did not disappoint. If you are looking for a passionate, dedicated and friendly team to collaborate with, they are the best in the business. Thank you so much Wild Goat Events for a memorable day!"